MORE IMAGES
Even though we are many weeks after the race you can still relive race day. We have lots of photos available through different people. We've recently started to add a whole collection of photos from a gracious spectator who was on course. We have over 500 pics from her and we'll get them posted when we can.

THANK YOU FOR RACING!
We hope you had a great race and a wonderful time. Thanks to all of our sponsors, partners, volunteers, property owners and everyone else who helped make this event a success.

MATT SURCH'S POST RACE BLOG
Matt does a great job of writing about the front of the pack. He has put up his report from the P2A - How the Race was Won: Paris to Ancaster. To read all about it on his Tekne Cycling Blog Page CLICK HERE.

POST RACE BLOG
We had a lot of positive feedback about our blogs. Here is one last blog about the race and setting goals by Ian Brisbin. BLOG

P2A40 SOLD OUT! P2A70 SOLD OUT!
We are pleased to report that both the P2A40 & P2A70 are sold out. Thank you for your support. There a few spots remaining in the VIP and in the P2A20. Please see the top of the FAQ page for more info about registration questions.

More New Blogs
Every year we get lots of questions about the event. Today's guest blog is from Mike Badyk who has rode sweep for many years. There is lots of advice about how not to be at the back of the pack. There are lots of other blogs too. Check it out - CLICK!

How The Race Was Won
Tekne Cycling Club racer Matt Surch, 3rd place winner in 2015, has confirmed that he is racing this year. After last year's race he put up a great blog about what goes on at the front. It is a great perspective and worthwhile reading. CLICK
Congrats to Matt for winning the Steaming Nostril Race in Kitchener last weekend. More - CLICK

Call For Volunteers
Like most events, P2A succeeds because of the volunteers that contribute their time and effort each year. If you would like to be a part of the race, without the mud, we have a variety of opportunities for you. From registration assistants, to course marshals, start line assistants and parking staff, we have a role to suit your schedule and/or interests. If your group of 6 or more is in interested in a fundraising opportunity, contact us asap to discuss. Contact Dave at volunteer@parisancaster.com for more information. All volunteers are eligible for draw prizes. T shirts and lunch provided as always.

Founders Ball
Here's a YouTube video about the partnership between St. Joe's Hospital and the P2A. Hope you were there!



NEW WEB FEATURES
To get you hyped for the P2A we've added two new web features. The first is a Race Blog by Rob MacEwen. You'll find a good description of the event and what to expect. It is especially useful for newbies and those wanting to do better in the race. CLICK

We've also added a page for our P2A Social Media Ambassadors. These are racers at all levels of experience that are sharing their stories about the P2A. Connect with them and find out more about the P2A experience. CLICK

P2A EXPO
The P2A is coming soon and we want you to be a part of our 23rd Annual Race Weekend Expo. Each year our Expo continues to grow with great vendors and thousands of cyclists. This year we would love to see your company join us for a fun filled weekend! For details CLICK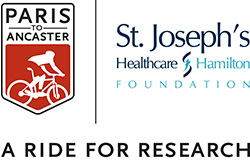 Ride for Research
Beginning in 2016, St. Joseph's Healthcare Foundation is proud to be the new official charity partner of the Paris to Ancaster Bike Race. Now novice and expert cyclists alike can ride to support research at St. Joe's. Whether you choose to fundraise on your own, or as part of a corporate or friends and family team, every dollar you raise will be supporting vital healthcare research. St. Joe's is a research powerhouse in areas like mental health & addictions, kidney & urinary care, lung diseases, critical care and much more. The funds you raise through this Ride for Research will help to create a healthier future for all of us. CLICK HERE for more information on how to register and raise funds in the 2016 Paris to Ancaster Bike Race.

Welcome to NCCH
New for 2016, the National Cycling Centre Hamilton is offering a Mountain Bike Program to help you train, race and excel at events and especially the Paris To Ancaster. More info on our Prepare/Training page.

New 20KM Start Location!!!
The 20km P2A has a new start line. Many thanks to Bishop Tonnos High School for hosting the 20 km start. Exciting new course details to be revealed soon!