26TH ANNUAL P2A - SUNDAY APRIL 28 2019

2019 REGISTRATION
Before you get all excited - no, not yet. As per last year registration for the 2019 event will open in early to mid-November. We will give you lots of heads up. As per years past, there are field limits and once the places are filled, they are filled, first come and first served. Stay tuned for more news soon.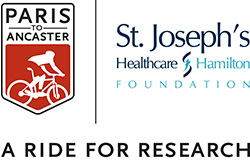 Ride for Research
Back for 2019, St. Joseph's Healthcare Foundation is proud to be the official charity partner of the Paris to Ancaster Bike Race. Now novice and expert cyclists alike can ride to support research at St. Joe's. Whether you choose to fundraise on your own, or as part of a corporate or friends and family team, every dollar you raise will be supporting vital healthcare research. St. Joe's is a research powerhouse in areas like mental health & addictions, kidney & urinary care, lung diseases, critical care and much more. The funds you raise through this Ride for Research will help to create a healthier future for all of us. CLICK HERE to raise funds for St. Joe's in the 2019 Paris to Ancaster Bike Race.