P2A 2017 - REGISTRATION NOW OPEN!
Registration for the P2A on Sunday April 30, 2017 is now officially open. Remember that both the P2A40 and P2A70 sold out for 2016. Get your registration in early. It helps us in our planning and it will even save you some $$$.


P2A LOST & FOUND
Every year we collect a bunch of leftover kit at the end of race day. We do our best to get them back to folks. Right now I've got an overload of stuff and we need the room in our garage. If not claimed in the near future I will either use them or donate to a worthy cyclist. Shoes, repair kit, heart monitor, glasses, gloves, vest, hat and shirt – they are available for return with a good and matching description of the item. Please email the description of your lost item to info@parisancaster.com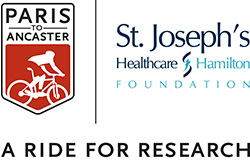 Ride for Research
Back for 2017, St. Joseph's Healthcare Foundation is proud to be the new official charity partner of the Paris to Ancaster Bike Race. Now novice and expert cyclists alike can ride to support research at St. Joe's. Whether you choose to fundraise on your own, or as part of a corporate or friends and family team, every dollar you raise will be supporting vital healthcare research. St. Joe's is a research powerhouse in areas like mental health & addictions, kidney & urinary care, lung diseases, critical care and much more. The funds you raise through this Ride for Research will help to create a healthier future for all of us. CLICK HERE (available soon) for more information on how to register and raise funds in the 2017 Paris to Ancaster Bike Race. Here's a YouTube video about the partnership between St. Joe's Hospital and the P2A. Hope you were there!