SOME GREAT READING
Even though the P2A is long over people are still writing about the epic 2017 edition. There are 2 blogs that you should check out. First up is from Matt Surch, the 2017 3rd place finisher. If you thought it was an easy race for the pros then read what Matt had to say - CLICK. If you want a sense of what it is like for a P2A first timer, even though she won, check out Rebecca Fahringer's posting. The joys of travel, racing and more - CLICK

THANK YOU FOR RACING!
Thanks to all of you who came out and braved the cold and the incredible wind. That was an epic P2A. Hey, at least it didn't rain.

Sincere thanks to the organizers, the volunteers, the sponsors, the exhibitors, the tech crews and everyone else who made the P2A happen. It takes the dedicated work of a lot of people to make this event what it is. Don't forget that next year will be extra special - our 25th year.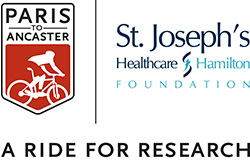 Ride for Research
Back for 2017, St. Joseph's Healthcare Foundation is proud to be the new official charity partner of the Paris to Ancaster Bike Race. Now novice and expert cyclists alike can ride to support research at St. Joe's. Whether you choose to fundraise on your own, or as part of a corporate or friends and family team, every dollar you raise will be supporting vital healthcare research. St. Joe's is a research powerhouse in areas like mental health & addictions, kidney & urinary care, lung diseases, critical care and much more. The funds you raise through this Ride for Research will help to create a healthier future for all of us. CLICK HERE (AVAILABLE NOW) for more information on how to register and raise funds in the 2017 Paris to Ancaster Bike Race.