MARCH 31 - ELITE WAVE CUTOFF
Racing Elite is something special. You really do have to earn it. The P2A is a big event so even as an elite you can't wait until the last minute to register. After March 31 we cannot guarantee you a spot in the race. If you qualify for the Elite Wave, please help us out and register soon. As it says on our registration page "Additional invitations for the unfilled positions in the Elite start will be issued to riders of exceptional ability at the organizers discretion after this date. If you wish to be considered for an upgrade to the Elite start you must be registered by March 31, 2017."


MARCH 20 REGISTRATION UPDATE
Registration for the P2A on Sunday April 30, 2017 has been open since November 1, 2016. For you holdouts - you are almost out of time.

P2A70 - Wave 1 filled on Jan. 23rd
P2A70 - Wave 2 filled on Jan. 3rd
P2A70 - Wave 3 filled on Jan. 19th
P2A70 - Wave 4 - a dozen spots remain available.
The VIP (pick any wave you want) is 90% filled.

P2A40 - Wave 1 has less than 10 spaces available.
P2A40 - Wave 2 has a reasonable amount of openings.

There is still lots of room in the P2A20.

Remember that there are field limits and both the P2A40 and P2A70 sold out long before the 2016 ride.

2017 P2A EXPO
Registration has been going very well for the 2017 P2A. What better way to reach over 2000 cyclists than to be part of our EXPO. Every year our EXPO gets bigger and bigger. Every participont sees the EXPO as it is in the registration room. For more info CLICK.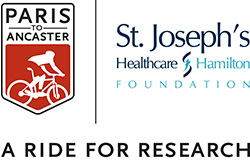 Ride for Research
Back for 2017, St. Joseph's Healthcare Foundation is proud to be the new official charity partner of the Paris to Ancaster Bike Race. Now novice and expert cyclists alike can ride to support research at St. Joe's. Whether you choose to fundraise on your own, or as part of a corporate or friends and family team, every dollar you raise will be supporting vital healthcare research. St. Joe's is a research powerhouse in areas like mental health & addictions, kidney & urinary care, lung diseases, critical care and much more. The funds you raise through this Ride for Research will help to create a healthier future for all of us. CLICK HERE (AVAILABLE NOW) for more information on how to register and raise funds in the 2017 Paris to Ancaster Bike Race.


Congrats P2A CX Alumni
Many countries had their CX Nationals in January. We would like to extend our congratulations to 2016 P2A alumni who podiumed. Belgian rider Ellen Van Loy was on the podium for the 5th consecutive year placing 3rd. In the US Nats, Jamie Driscoll took 2nd place and Ellen Noble (2016 P2A women's winner) won the U23 category for the second straight year.