Founders Ball
Q. Where can you party with 2 Grand Tour veterans, 2 Olympians, 2 Paris Roubaix veterans, 2 Milan-San Remo veterans, a Giro d'Italia winner, a Tour de France Yellow jersey, Olympic and Commonwealth Games Medalists?
A. The Founders Ball

Saturday, February 20, 2016 @ Shawn and Ed Brewing Company, Dundas. Brought to you by long time P2A sponsor The John Trim Group at Scotia Wealth Management, this event is in aid of research at St. Joe's and the P2A "A Ride For Research". Join Canadian Olympians Steve Bauer and Sue Palmer, along with Davide Frattini (recently retired United Healthcare pro) who have confirmed their attendance at the Founders Ball. Enjoy an evening of entertainment, food, craft beer tastings and tours and hang out with the pros. For more info and to buy tickets visit St. Joe's Foundation.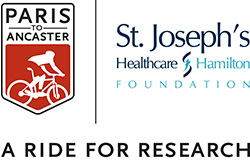 Ride for Research
Beginning in 2016, St. Joseph's Healthcare Foundation is proud to be the new official charity partner of the Paris to Ancaster Bike Race. Now novice and expert cyclists alike can ride to support research at St. Joe's. Whether you choose to fundraise on your own, or as part of a corporate or friends and family team, every dollar you raise will be supporting vital healthcare research. St. Joe's is a research powerhouse in areas like mental health & addictions, kidney & urinary care, lung diseases, critical care and much more. The funds you raise through this Ride for Research will help to create a healthier future for all of us. CLICK HERE for more information on how to register and raise funds in the 2016 Paris to Ancaster Bike Race.

Registration Update - Still Going Strong
We are pleased to report that registration for the 2016 P2A continues well ahead of last year's pace and shows no signs of letting up. It looks like some of the waves in the P2A70 are sold out - don't despair because there is still lots of room. The incredible P2AVIP The Pro Experience still has lots of space. The full 70K too much? Why not ride the best of the P2A route in the P2A40?

Welcome to NCCH
New for 2016, the National Cycling Centre Hamilton is offering a Mountain Bike Program to help you train, race and excel at events and especially the Paris To Ancaster. More info on our Prepare/Training page.

New 20KM Start Location!!!
The 20km P2A has a new start line. Many thanks to Bishop Tonnos High School for hosting the 20 km start. Exciting new course details to be revealed soon!